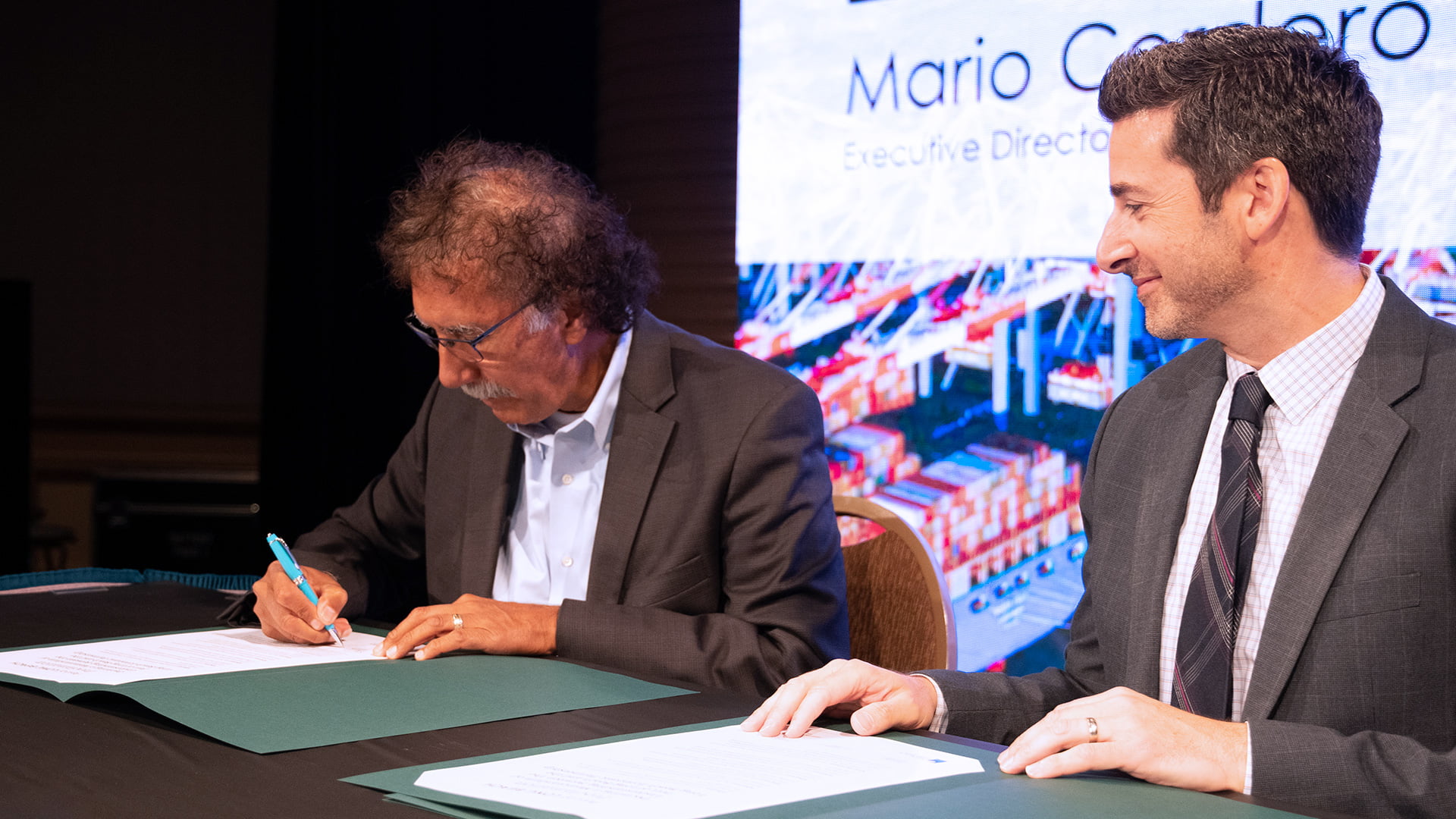 Port of Long Beach Executive Director Mario Cordero, left, and Long Beach Economic Partnership Chairman Ryan Altoon sign documents solidifying a partnership between the two organizations Thursday, Sept. 29, 2022. Photo by Brandon Richardson.
A new plan to promote economic development in Long Beach is on its way, after the Port of Long Beach and the Long Beach Economic Partnership solidified an agreement to develop just such a strategic plan during today's Accelerate Long Beach economic forum.
As part of the economic initiative, the activation of the World Trade Center Long Beach, a trade-promoting entity, is now underway. The One World Trade Center building in Downtown is expected to become office space for the effort following the approval of the plan from the Long Beach Board of Harbor Commissioners, which will likely come in the first quarter of 2023.
The LBEP will guide the World Trade Center relaunch under its Blueprint of Economic Development, according to Noel Hacegaba, deputy executive director of the Port of Long Beach.
The agencies did not share specific details on what the strategic plan will entail. But Hacegaba said it will strengthen each organization while coordinating each entity's efforts to drive more economic opportunities to Long Beach.
"This is definitely what you call a win, win, win situation," he said.
The port, which handles $200 billion in trade annually, generates 50,000 jobs in Long Beach alone, and over 575,000 jobs in Southern California.
Through both the new partnership and the port's existing efforts—such as its sponsorship program, which will allot $1.2 million over the next year to local nonprofits and its community grants program, which has set aside over $65 million since 2009 to mitigate the port's environmental impacts—the port hopes to move more cargo, create more jobs, attract more businesses and investments and drive economic development, Hacegaba said.
"We're working … 24/7 to strengthen our economic engine as we continue to be a great partner to all of you, a great neighbor to our community, and together with LBEP, we will continue to drive economic prosperity while delivering cleaner air and a better quality of life for all," Hacegaba said.
Other highlights of the Accelerate Long Beach conference included the economic forecast, led by Robert Kleinhenz of CSULB's Office of Economic Research and Kleinhenz Economics, who discussed the potential for economic growth in the area as well as challenges facing the region.
While factors such as the pandemic, potential federal action, the Russia-Ukraine war and labor force dynamics could still come into play, a recession is unlikely within the next 12 months, Kleinhenz said.
Inflation is expected to remain high into 2023, he added, but by the second half of next year, it should be returning to the low single digits.
While Kleinhenz noted that recovery from the Great Recession took about four years, unemployment spurred by the COVID-19 pandemic has already largely bounced back, although employment in the region has yet to fully recover, he said.
California's unemployment rate is currently 4.1%, the same as it was in January 2020 before it quadrupled to almost 16% within the pandemic's first two months.
In Long Beach, unemployment was at 5.2% in August.
California remains one of the national and global economic leaders, said Kleinhenz; in 2020, 28% of all patents issued were with California patent holders or registered with California enterprises, and in 2021, California accounted for about 42% of all the venture capital compared to the rest of the country.
However, California is still in the process of economic recovery, and the state is facing issues in particular regarding housing affordability and access, along with sustaining its labor force, Kleinhenz said.
While LA County has currently recovered 98% of its jobs since the pandemic, a gap Kleinhenz anticipates will be filled by the end of 2022 or the beginning of 2023, job openings currently exceed the number of people who are unemployed, a trend that will likely continue over the next decade, Kleinhenz said.
With a large number of people leaving the labor pipeline, and a small number of people replenishing the workforce, the only way to fix this would be to see more immigration, he said.
Long Beach, though, has the ability to capitalize on growth in tourism, aerospace, and health care, with opportunities for growth in professional, scientific and technical services and financial services, Kleinhenz said.
Long Beach is currently looking toward the future of air mobility, and the conference concluded with a panel of experts discussing the development of electric air vehicles, which are expected to launch commercially in October or November 2024.
"We're at a time where the future is right in front of us, and we get to be a part of it," said Cynthia Guidry, director of Long Beach Airport.